Martha's Vineyard: Saving and Smart Travel
This post may contain affiliate links. For more info read my disclosure.
Most recently, my husband and I spent our 11th anniversary at Martha's Vineyard. This week's blog is going to be highlighting the wonderful places that I visited, recommendations for you to head to if you choose to go to Martha's Vineyard, and ways to save, and make this a budget-friendly trip.
As some of you might know Martha's Vineyard does have a more expensive, luxurious reputation, and because of this, it might be harder to save on top of things that you could save in other places if you were to travel there, such as food, and stay. However, there still are a lot of ways to cut back on spending, and that all begins with the research phase of planning a trip. Here are some tips on ways to save on visiting Martha's Vineyard:
Research locations for your stay. I would highly recommend steering away from looking at hotels. Usually, these don't have the best amenities or intimate customer service and can be overpriced. I would recommend looking for some AirBnBs, and or some bed and breakfasts. We stayed at the Oak Bluffs Inn which included a made-to-order hot breakfast every morning included in our stay. check out the perks of each place, and see if it would help you save any money depending on what your needs are.
If you're staying for longer than a day, consider purchasing snacks, and soft drinks and water that you can have on a beach, in between sightseeing, and even for lunch. A lot of times these Inns and AirBnBs will be equipped with a common microwave and refrigerator. This is a great way to save some cash, and still make sure that you're fulfilled for your day's adventures.
Make a list and organize your plan for this trip. What can wait until the next time you visit? What is a priority for you to do on this trip? If you're looking to do excursions, maybe a boat outing, tour of the islands, or any other more expensive excursion- make sure to consider your budget! take recommendations from friends, family, and online forms. Take to social media. I'd love to see what other people are enjoying and do your research and use hashtags for the varies places as well as the Martha's Vineyard one.
Consider the time of year and dates. My husband and I specifically had dates in mind as we are planning around our anniversary, however, if you're looking to save a significant amount of money, researching the times where it may be more affordable may be right for you. It's also important to know the amount of people that you're going with, and if you will do anything. For example, if you're looking to do an Airbnb with a party of 10- it may be way more economical for you to go with that than a bed-and-breakfast. Do your research and understand that it all depends on the needs of your party.
Make sure to carry cash and credit cards with you, but not all of them! Travel lightly, only pack necessities!
My Trip to Martha's Vineyard
I'm going to walk you through our itinerary for our trip, filled with recommendations on where to stay, and eat and what are the best activities to do for your first time on the island!
Pre-Trip Planning
Before even looking at a place to stay, I looked into tickets for the ferry at Steamship Authority and ask about the ability to bring our car. For us this was important and you were able to hold your car and tickets while you searched for a place to stay. We lucked out and we were able to bring our car on the ferry and have it on the islands. For those of you who don't want to do that you don't have to bring your car, and you could rent bicycles and Cars on the island as well.
I spent a lot of time researching Airbnb versus bed-and-breakfast and making sure that the amenities match my husband's and my needs. We ended up landing 4 days and 3 Nights at Oak Bluffs Inn.
Day One: Arrival to Martha's Vineyard
After taking the ferry over, we ended up heading over to our bed and breakfast, the Oak Bluffs Inn in Oak Bluffs Martha's Vineyard. Although checking wasn't until about 3 PM and we arrived around 9 AM we were still greeted and given a hot breakfast to start our day. We enjoyed the wrap-around porch and the ability to sit and watch people walk by. Our host, Erik, was so accommodating, welcoming & pleasurable.
Oak Bluffs Inn is located on Circuit Ave which is the main drag of Oak Bluffs which is filled with restaurants and shops and art galleries for people to walk up and down. This inn was located directly near everything great for convenience. An added plus of staying at an inn like this is that you are constantly meeting other guests at the Inn. The specific location had about 10 rooms in total. 7 in the manin house and 3 in another house on the property. Everyone was super friendly and outgoing and we were able to connect with them.
One of the missing amenities that we had assumed that we were going to miss was a TV in the room. Both my husband and I are huge movie fans, and or streaming lovers. We are used to having a TV in the hotel room, and even in the bed and breakfast rooms we have stayed at in the past. However, this specific in didn't have a TV in the room and then said had a TV in a common space area. We were able to finish up a show that we've recently been watching, however, we didn't even miss the TV being in our room!
After we took showers and took a quick nap after our early morning, we headed over to Nancy's for dinner. We indulged in the seafood broil, which had a special twist of including bread on top of it. Although different from the traditional seafood boil that I was used to, it was still an amazing dish with really fresh seafood. The staff at Nancy's was extremely friendly, helpful and provided great customer service.
Day Two: Shops, Walking and Ice Cream
Day Two started with a hot breakfast at our end, and a relaxing morning sitting on the porch and enjoying the views. We were able to talk more with our fellow guests that were staying at the end and find out what other people were doing in town. We found out that there were a lot of black-owned businesses, shops, and restaurants right on Circuit Avenue that we would later visit for the remainder of our trip. We enjoyed our morning at the beach at Inkwell Beach which is widely known as it's featured in movies and shows.
For lunch, we headed over to Biscuits which is widely known for its breakfast. However, we were able to catch them as an early lunch around 1 o'clock. Their fried chicken was amazing and it was one of the best I've ever had. The owners and workers were all extremely helpful, took pictures with us, and were so friendly. I would highly recommend that you make the stop here, for breakfast or lunch!
For lunch, we headed over to Biscuits which is widely known for its breakfast. However, we were able to catch them as an early lunch around 1 o'clock. Their fried chicken was amazing and it was one of the best I've ever had. The owners and workers were all extremely helpful, took pictures with us, and were so friendly. I would highly recommend that you make the stop here, for breakfast or lunch!
We stopped by the Nauti Cow in Oak Bluffs as well which featured some amazing flavors of ice cream (and so vegan/non-dairy friendly). I personally only eat non-dairy ice cream and this place was amazing for that!
That day we walked around and we were able to do some more sightseeing and took a look at these small cottages that lined the streets that created such amazing personalities. It was amazing to see that each one represented something for the community!
We headed over to Edgartown that day, to enjoy the beach and see what that town had to offer. We were able to walk around, look at shops, and restaurants, and do a little sightseeing for boats going in and out and people fishing.
Day Three: Sunset Views!!!
On day three again we enjoyed breakfast at our end and planned our day ahead of us. We can stop into some shops in our galleries on Circuit Avenue and be able to support some small black-owned businesses. everything in the area is supercontinent, friendly, and great for photos. In the Bluff and C'est La Vie were both great stores that are black-owned and featured some really cute memorabilia and retail items! We jumped in and out of art galleries, Cousen Rose was one and there was another whose name is escaping me. We took some pics of some outdoor statues and art installations, and had a great time feeling the town!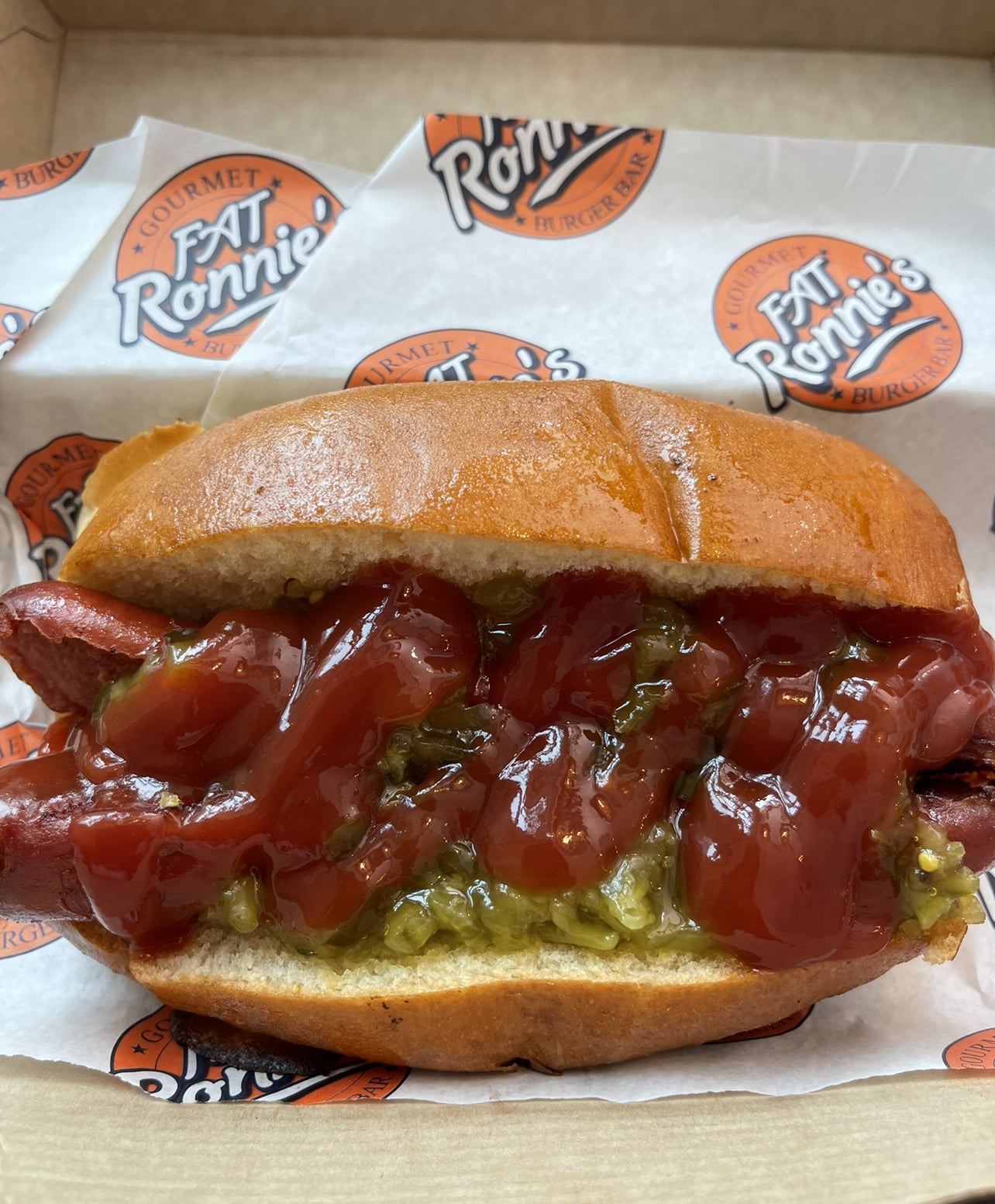 Fat Ronnie's right on Circuit Ave is a great quick burger stop for some cheap (but great quality) eats! We grabbed a hotdog and hamburger that did not disappoint!
We took our car and drove over to Menamsha to enjoy some dinner on the beach and watch the sunset. The specific area is well known for its sunset views and draws in a lot of travelers. We grabbed a lobster roll and coleslaw, and enjoyed it near the beach which was a great pick and so fresh! Larsen's Fish Market near the sunset was a great pick and the perfect way to end our night.
Day Four: : Last Day!
Although this day was a bit shorter, we were still able to enjoy our time. After checking out at the end and enjoying a hot breakfast, we headed over to do an African-American Heritage tour of Martha's Vineyard. History of legacy on the island. The tour was super informational and filled with lingo that taught us something new! We can see black-owned homes, historic sights, and monuments. There were two options for tours- a 2-hour and a 4-hour however both are guided and so informational!
Last night we headed to The Sweet Life which was right across from our Inn and headed back on to the ferry!
Overall our trip was a great experience filled with great food, people, and sights to see! I would highly recommend it! Remember that a part of working and life is that amazing balance and time to relax! You can do it on a budget and still have a great time. Take a listen to our most recent podcast on my trip to hear more about it!